Navigatori Class is the second line of Regina Marina ship tree after Leone. If you want balancing firepower rather than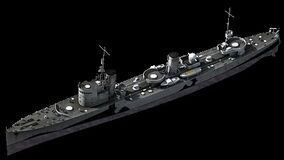 Turbine Class. You can pick this class in your ship tree.
It consist of 3 main gun displacements and 2 secondary displacements. Main gun displacement has bigger storage they can hold than Leone Class. Compare to Turbine, it has extra one main gun to your ship while being much smaller than Leone Class. For drawbacks, It move much slower if you carry heavier guns. So, Navigatori Class speed isn't going very well but it is count as Destroyer.
Class type: Destroyer (DD)
Requirement: RM Bridge Operator (Level 18)